Pediatric Asthma eYardstick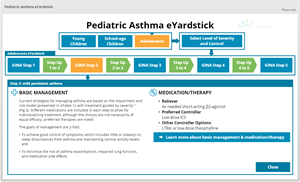 The Pediatric Asthma eYardstick presents an in-depth model including practical recommendations for a sustained step-up in asthma therapy for children with inadequately controlled asthma. This interactive version is designed to enable practitioners to intuitively and efficiently utilize the yardstick model in an office setting. 
Price: FREE for members and non-members
Supported by Sanofi Genzyme and Regeneron Pharmaceuticals.
 
You might also like: