Price: FREE for members, $25 non-members
This eParameter presents the content from the ACAAI/AAAAI Practice Parameter for Primary Immunodeficiency Disease and is designed to be easy to navigate and explore.
The practice parameters are documents that establish boundaries for appropriate patient care. They acknowledge the range or variations that currently take place in the allergy community regarding management of allergic conditions and use of procedures to diagnose and treat these conditions.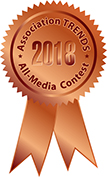 The PIDD eParameter was awarded the bronze medal in the eLearning category of the 2018 Association Trends All Media Awards.