Allergy Office: Staffing For Efficiency
Introduction
Can you imagine a baseball team where the pitcher not only pitched but also had to cover first, second and third bases; the shortstop could only cover left field; and the catcher's main duty was to sweep clean home base?
That's a team that would never get to the World Series!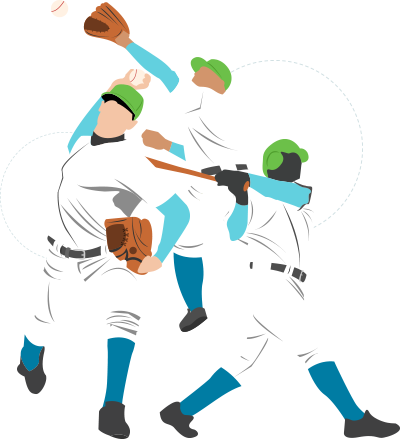 Without the right players in the right places doing the right jobs, a team would have very little chance of winning. And the same is true when it comes to staffing an allergy practice.
When you have the right amount of staff in the right roles, you can hit patient satisfaction, practice revenue, and provider and staff well-being right out of the park!
This module will coach you on how to use staffing best practices to improve your team's efficiency. You'll learn...
Important factors you need to consider when developing staffing levels
How to use clinical staff to increase productivity and provide better patient care
How and why to cross-train staff
How to benchmark staffing levels
Ready? Let's play ball!
Factors You Need to Consider
Support staff is typically a practice's largest expense item (after provider compensation). So, making the most of your staff, as well as having the right people doing the right things, is crucial.
When evaluating and trying to determine the right staffing levels for your practice, you need to consider many different factors.
The composition of your practice

How many physicians does your practice have? How many nurse practitioners (NPs)? Physician assistants (PAs)? The number of providers in your practice is one of the biggest drivers of support staff needs.

The number of locations you have and your hours of service

If you have multiple office locations with overlapping hours, you'll require additional staff for each site. But if your hours don't overlap, you might be able to have staff travel between locations, unless distance is a factor.

Your clinicians' practice styles

Different providers have different styles and expectations, and these will drive the level of support they need. For example, does one of your providers require a scribe for the EHR? Is another provider rather disorganized, requiring extra clinical support?

Also, keep in mind that highly productive physicians may need more clinical support to manage their patient load.

The services your practice offers

Do you offer oral challenges and exercise studies or participate in clinical trials? These services can require additional or specially trained staff. For instance:

Oral challenges require experienced staff who are skilled at both coaching pediatric patients to eat potentially allergic foods and recognizing the signs and symptoms of anaphylaxis.
Clinical trials typically require certified Clinical Research Coordinators to manage the protocol and the associated requirements.

The life cycle of your practice

A growing practice may need to ramp up staffing based on actual or anticipated growth. If your practice is going to add more providers, this will definitely impact your staffing needs.
A stable practice may need to just maintain staff levels.
A practice that's winding down – where the physicians are nearing retirement – may be cutting back on staffing as patient volumes decline.

The seasonality of allergies

Patient demand can increase considerably during allergy season. This, in turn, may require increased staffing levels. Here are some strategies to consider when trying to manage staffing changes caused by the peaks and valleys of patient demand:

During peak seasons, limit how much time off your staff can take. And be sure to link this to your physicians' time off.
Use per diem staff in times of high demand (if they can perform the needed services).
Use part-time staffing with an eye toward flexibility in scheduling.
Don't be afraid to use overtime. Even if you implement the three previous strategies, you may sometimes still need to stretch your staff's hours to meet patient demand. When hours are used for productive purposes, overtime is not an enemy but a friend.

Administrative activities

These activities could include management, compliance, governmental reporting requirements, billing and collection and so on. They'll impact the need for nonclinical staff.

Your practice's use of technology

If you use an EHR, you'll need to factor in training, reporting, support, and system maintenance in determining your staffing needs. If you use scribes, count them, too. One suggestion is to have one or more "super users" on staff who maintain a thorough knowledge of the software, evaluate the impact of new releases, and act as staff resource and trainer. Consider having a physician super user and super users for both clinical and front desk staff.

Each provider's patient volumes

Patient volumes should be a key factor in determining staffing. Busier providers need more clinical support – and more clinical support can help maintain higher patient volumes.
Have Staff Work at the Top of Their Scope of Practice
How happy are the physicians and providers in your practice with the amount of time they spend with patients? One study done in 2016 found that physicians got to spend a mere 27% with patients – the rest of their time was eaten up by administrative and computer tasks.1
That's neither efficient for a practice nor satisfying for a provider. But there's a way around this that improves efficiency and increases both staff and provider satisfaction: make sure your clinical support staff is working at the top of their permitted scope of practice.
What exactly does this mean?
Providers and staff should work on the most complex and challenging tasks their licenses, training and abilities allow.
Providers and clinical support staff – your nurses, medical assistants, respiratory therapists, etc. – shouldn't spend time on tasks that could be done just as effectively by someone with less training. (Keep in mind, however, that clinical staff must work within the scope of practice permitted by state law, which can vary.)
Example: Utilizing Your MAs, LPNs and RNs
One way to free up your allergists' time to see more patients is to make full use of your medical assistants, LPNs and RNs. Here are some of the things they can do to improve your office efficiency and reduce your physicians' administrative workload.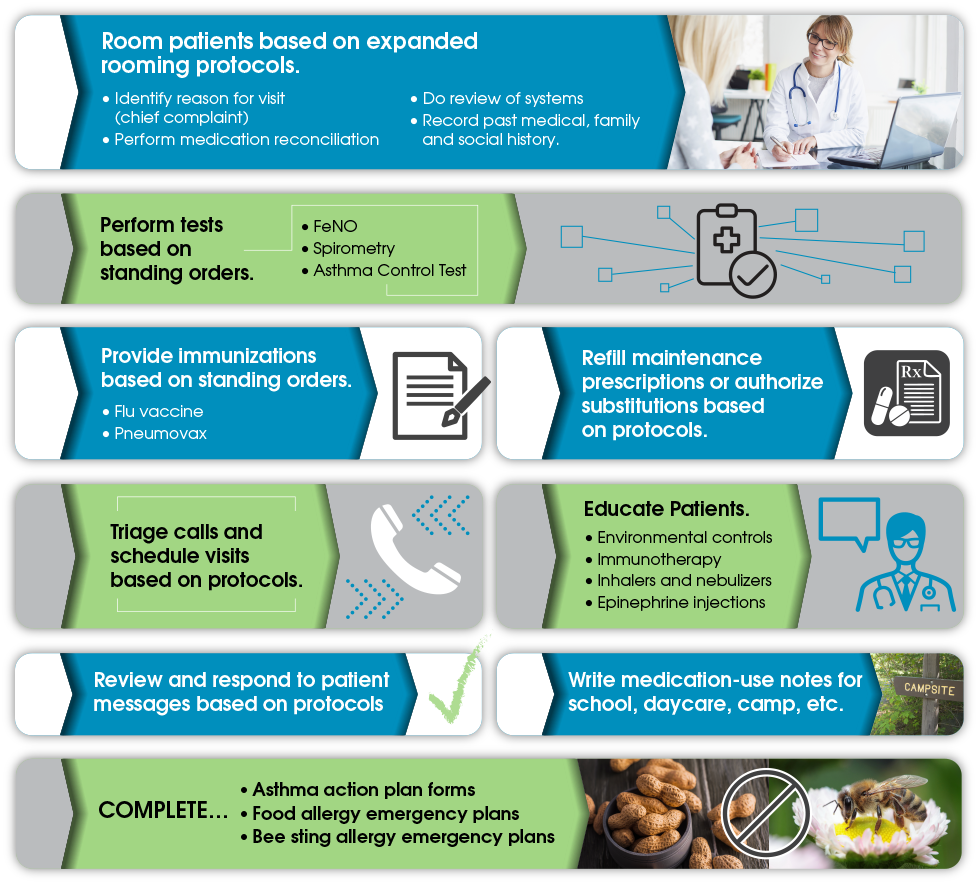 And don't forget about your NPs and PAs! They can – and should – be doing similar tasks as your physicians. So don't underutilize them by having them do the things MAs, LPNs and RNs could be doing instead.
Put Protocols in Place!
A key to all of these examples is the need to have preapproved written standing orders and protocols in place.
Standing orders are written protocols, approved by a physician or board of physicians, that authorize nurses or other health care personnel (where allowed by state law) to perform certain activities or tests under predefined conditions.
Protocols and standing orders are a key part of making the most of your clinical staff. With standard protocols in place, you'll clearly spell out the rules and policies you want your staff to follow for patient care, such as...
rooming a patient
refilling prescriptions
performing tests
Keep in mind that creating new workflows for staff also involves providing additional training for those taking on new responsibilities. Be sure to supervise staff performing standing orders and protocols to make sure they're being done correctly.
One of the best ways to create standing orders and protocols is to form a taskforce made up of physicians and staff members who are directly affected. You'll benefit from getting different perspectives as well as staff buy-in. But ultimately, standing orders and protocols need to be approved by physician leaders.
Examples of Standing Orders
Here are a few examples of standing orders. They're samples only, not recommendations on how you should create the protocols for your practice.
Whatever you do, don't wing it! Protocols take some time to create, but they pay off exponentially!
The Benefits
As you're probably imagining by now, having your staff work at the top of their scope has a multitude of benefits. Here are just a few:
Improved physician well-being – your doctors will be much happier doing what they got into medicine to do: help patients!
Better staff engagement – your clinical staff will enjoy the challenge and find their work more rewarding.
Greater practice efficiency – your workflow will be less likely to be slowed down by bottlenecks.
Possibly increased revenue – your physicians, nurse practitioners and physician assistants may be freed up to see additional patients.
Cross-train Your Staff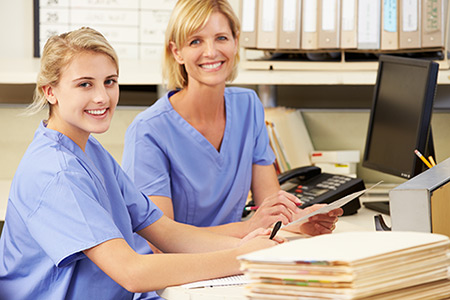 Another great way to get the most out of your staff is to cross-train them. This not only makes your practice more efficient, but it helps your employees feel more engaged. They feel more needed because they truly are needed!
Cross-training is especially important if your office is small. As you know, one absent employee can throw off the entire day – unless others are trained to step in and help out.
What are some options for doing this? Here are a few ways allergy practices can utilize their staff:
Have your MAs rotate between working in clinical roles and serving as receptionists.
Cross-train your nonclinical staff to handle registration, appointments and answering phones.
Train the stronger employees (or those looking to learn more) among your nonclinical staff to handle prior authorization requests for biologics and other medications, which would help free up clinical staff for other tasks.
And of course, there are numerous cross-training options for clinical staff.
Train multiple clinical staff to produce antigen vials for patient immunotherapy.
Create a "phone triage" team to answer clinical questions from patients, schedule sick visits, review lab results, etc.
Train clinical staff to work in all testing and treatment areas.
So foster a can-do attitude in your team to cover all the bases, in addition to allowing your employees to work at the top of their capabilities.
Benchmark Your Level of Support Staff per Provider
Benchmarking is a way of evaluating your practice's performance by comparing it to your own past performance and to other similar allergy practices. Ratios, like support staff per provider, are typically used for apples-to-apples comparisons. Let's take a look at three powerful benefits of benchmarking.
Benchmarking can...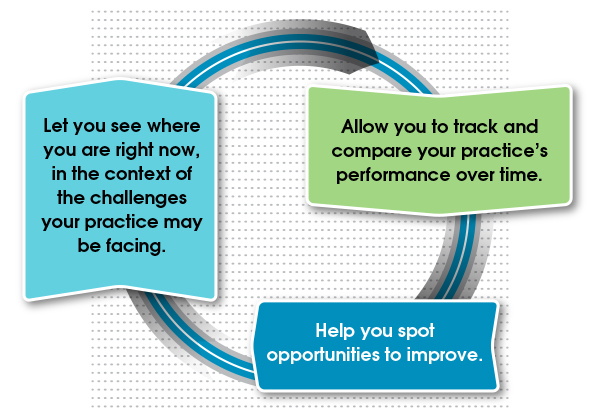 Benchmarking, when used well, is a cycle. You've probably seen in your own practice that clinical, administrative and management duties expand over time. So you'll want to periodically – perhaps annually – review your staffing needs and workflow. Make sure you're meeting your current needs, especially if your practice is evolving and changing.
While benchmarking can be beneficial to your practice, it's important to know there are also potential pitfalls to avoid.
Some Benchmarking Pitfalls
External benchmarking, or comparing your practice against industry averages, can sometimes be misleading due to differences in practice characteristics. So use outside comparisons with care. Variation in the following areas can skew your comparisons:
Potential benchmarking pitfalls
Clinical practice patterns
Practice use of NPs and PAs
Scope of practice laws by geography
Physician practice style
Lifecycle of the practice
Services offered and hours of service
Number of locations
Patient count per day
Use of outside services – such as a billing service, a hosted practice management system (scheduling or billing), or EHR
So try to compare your practice to other similar practices, or to your own past performance.
Now let's get down to the nitty-gritty: Do you know your practice's ratio of support staff per provider? And more importantly, do you know how to properly calculate this?
Get an Accurate Ratio
Simply dividing the number of doctors in your practice by the number of support staff won't get you the accurate number you need. So here's what you need to do.
Step 1: Calculate the number of full-time equivalent (FTE) providers in your practice.
An FTE provider works whatever number of hours the practice considers to be the minimum for a normal workweek, which could be 36 hours, 40 hours, or some other standard. To compute FTE of a part-time provider, divide the total hours worked by the provider by the total number of hours that your medical practice considers to be a normal workweek. For example, an allergist working in a clinic for 30 hours compared to a normal workweek of 40 hours would be 0.75 FTE (30 divided by 40 hours). Be sure to include physicians, NPs and PAs when calculating total provider FTEs.
Step 2: Calculate the number of full-time equivalent (FTE) support staff.
Typically, an FTE employee is someone who works 36-40 hours per week – but that might vary from practice to practice. Calculate FTEs for all staff based on your normal workweek. This includes MAs, LPNs, RNs, as well as nonclinical employees who do insurance verification, prior authorizations, billing/coding, customer service, scheduling, etc.
Step 3: Calculate the ratio of support staff per FTE provider.
Now comes the easy part: Simply divide total support staff FTEs by provider FTEs.
Total support staff FTEs
---
Provider FTEs
You might want to consider breaking out these ratios by type of staff, as the Medical Group Management Association (MGMA) does:
Business operations support staff = administrative, accounting and IT staff
Front office support staff = receptionists, schedulers and medical records staff
Clinical support staff = RNs, LPNs, MAs, etc.
Making Meaningful Comparisons
Comparing your own current performance to your past performance is always a good idea. And external comparisons can be helpful if you keep the risks outlined above in mind. With that said, you'll be wise to compare your staffing ratios to:
the Medical Group Management Association's (MGMA's) ratios for allergy/immunology practices or similar specialties (if you participate in MGMA's annual Cost & Revenue survey, you'll have access to this data for free!)
the ratios for other allergy/immunology practices the same size as yours
In addition, the results of a recent MGMA survey indicate that better-performing practices have more total support staff – particularly clinical support staff - per full-time equivalent (FTE) physician.
So here's the lesson we can draw from this:
Don't skimp on clinical support staff!
They can take on tasks delegated by providers and thereby improve provider productivity. Your practice's most critical resource is provider time, so it's worth spending a little more on clinical staff to maximize provider productivity.
Next Steps
Are all your practice's team members covering the right bases? Is everyone playing to their full potential? What do you need to do to get started in finding the right balance for your staffing needs?
Clinical Support Staff per Provider Ratio Calculator
Yes, it's true that support staff is the second-largest expense for an allergy practice. But when you have just the right staffing levels, allow your team to work to the top of their scope, and cross-train them to rise to the occasion in times of need, you'll have a more productive and satisfying practice than you ever dreamed of!