Allergy Office: Integrating NPs/PAs
Introduction
You've most likely heard how helpful nurse practitioners (NPs) and physician assistants (PAs) can be to allergy practices – and you may even employ an NP or PA. But how much do you really know about them? Try your hand at this little quiz to find out!
How did you do? Did anything surprise you?
In this module, you'll learn all about NPs and PAs and the great service and value they can add to allergy practices. You'll explore...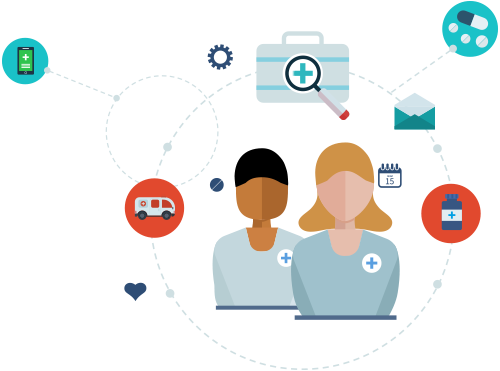 What NPs and PAs are
How they can help allergy practices
State and federal regulations, as well as licensing requirements
Their scope of practice and prescriptive authority
How to get reimbursed for their work
Whether you need to add a physician or an NP or PA to your practice
How to successfully integrate an NP or PA into your practice
The possibilities that NPs and PAs can offer your practice are exciting, so let's get started!
What Exactly Are NPs and PAs?
NPs and PAs are both advanced practice providers, or APPs, so that's how we'll refer to them throughout this module. (Note: they generally don't like being called mid-levels or physician extenders, which can wrongly imply a lower level of care. So please avoid those terms out of professional respect.) APPs are qualified health care professionals who have undergone specialized education, training, certification and licensure enabling them to provide care and treatment to patients. They have been certified to perform some of the same tasks as a physician, and they frequently work under the close supervision of a physician. Studies have shown comparable quality of care for NPs and PAs relative to physicians.1 Their scope of practice, level of independence and authority vary by role and by state.
APPs' scope of practice, level of independence and authority vary by role and by state.
So, what are some of the things they can do? APPs can...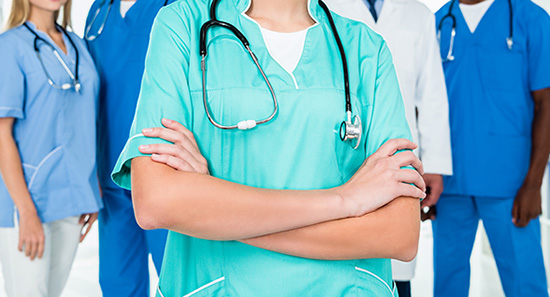 Evaluate patients
Perform examinations
Make diagnoses
Educate patients
Prescribe medications
Order and interpret diagnostic testing
In essence, APPs can function autonomously with physician oversight – according to practice agreements and state requirements.
NPs and PAs go through considerable training before being licensed and certified. They have advanced degrees and must complete practical clinical training. Here's a breakdown of what it takes to become an NP or a PA:
Licensing, Certification, and Education Requirements
Nurse Practitioner
Physician Assistant
State Board of Nursing licensure (RN, APRN)
State-specific licensure to practice
Nationally board certified by AANP or ANCC

Nurse practitioner, certified (NP-C)
Advanced practice registered nurse, board certified (APRN-BC)

Nationally board certified by NCCPA

Physician assistant, certified (PA-C)

Renew certification every 5 years by:

AANP: completing 1,0000 clinical hours and 100 continuing education credits

OR

take the National Certification Examination.
AANC: completing 75 continuing education hours plus 1,000 clinical hours or other substitute activity.

Complete a recertification exam every 6-10 years (moving from every 6 yrs. to every 10 yrs.)

AND

Complete 100 hours of CME every 2 years.
(*APRN – Advanced Practice Registered Nurse; AANP – American Association of Nurse Practitioners; ANCC –American Nurses Credentialing Center; NP-C – Nurse Practitioner, Certified; APRN-BC – Advanced Practice Registered Nurse, Board Certified; NCCPA – National Commission on Certification of Physician Assistants; PA-C – Physician Assistant, Certified)
As you can see, APPs are thoroughly trained and highly skilled. Plus they bring a vital, valuable collaborative approach to medical care. Let's see specifically how this works in an allergy practice next.
How APPs Can Help an Allergy Practice
APPs can bring substantial benefits to your practice. When done effectively, employing APPs can...
Increase practice revenue at a lower cost. APPs can provide many of the same services as allergists but cost practices less in overhead than a physician.
Enhance the quality of care for patients through better access and coverage.
Improve physician satisfaction and reduce burnout by sharing the workload.
Just like a physician, APPs can have their own schedule of patients. However – and this is an important difference – APPs need to discuss all complicated patients with the physician. So you'll need to set criteria for determining when this is necessary.
What types of services do NPs and PAs provide in allergy practices? The College's Practice Management Committee shared the following list of services APPs provide in their practices: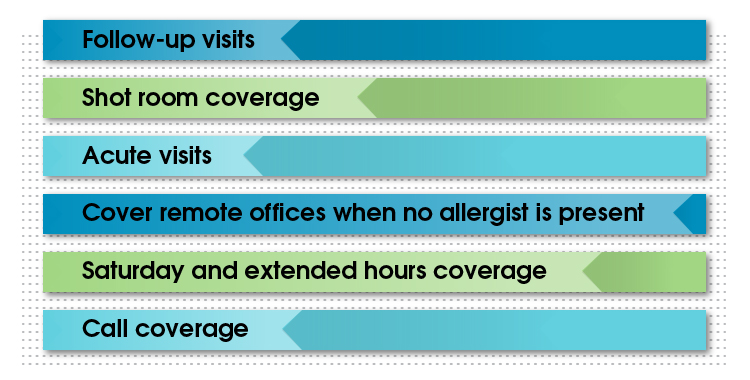 Just a note about acute visits – these include urgent, day-of appointments and short-notice testing. You may want to consider blocking slots in an APP's schedule for same-day appointments so you can ensure patient access for urgent visits. This is especially handy during busier times like peak pollen season.
Whatever you do, don't make the mistake of using an APP to do things an RN can do. Make sure APPs are working at the top of their license, which means working on the most complex and challenging tasks their licenses, training and abilities allow. It simply isn't cost-effective to have APPs spend time on tasks that could be done by someone with less training.
Things to Consider When Adding an APP
Are you intrigued by the idea of adding an APP to your practice? Then let's look at two important practical considerations before bringing one on board:
Licensing requirements (both state and federal), scope of practice and prescriptive authority
How you'll bill for your APP's services
Let's break these down in some detail.
Licensing Requirements, Scope of Practice and Prescriptive Authority
Start by researching the licensing requirements and scope of practice for APPs in your state.
To determine the state and federal licensing requirements for NPs and PAs, refer to the following organizations and/or your state medical society:
The scope of practice for APPs, as well as their prescriptive authority, is regulated at the state level, so it can vary widely. Also, agreements regarding supervision and how APPs will collaborate with physicians are governed by each state. (Supervision requirements, though, may be changing. In 22 states and the District of Columbia, NPs are allowed to practice without an agreement with a specific physician.)
To make matters more complicated, in some states, federal regulations may be more restrictive than state regulations. So you really need to know the laws for your particular state as well as federal regulations.
Finally, local Medicare Administrative Contractors (MACs) may also have separate restrictions on services provided by APPs. For example, one MAC currently doesn't allow allergy testing by APPs. So be sure to check your local MAC requirements as well.
Reimbursement
The next area to research when considering adding an APP to your practice is reimbursement. There are two ways you can bill for the services provided by APPs. Let's start with how Medicare handles billing, since private payers usually follow their lead.
Medicare
With Medicare, you can bill one of two ways:
Bill directly under the NP or PA, using their own National Provider Identifier (NPI). There will be a 15% reduction in reimbursement with this method. (The reduction is about the same for commercial payers.)
Bill "incident to," which means billing under the supervising allergist's NPI. With this option, you'll be reimbursed at 100% of Medicare rates.
Who wouldn't prefer 100% reimbursement? However, you need to meet certain requirements to bill "incident to":
The allergist must initiate the patient's care and any changes in the care plan.
The allergist must be present in the office suite and available during the time the care is given.
An allergist must actively participate in and manage the patient's course of treatment.
So APPs can't see new patients, or existing patients with new problems, and bill as "incident to." Also, if an allergist isn't in the office at the time of visit, you can't bill "incident to." There's a little twist with this second point: though a physician does have to be available at the time of care and must manage the care, the supervising physician can be any doctor in the group – he or she doesn't have to be the one who initiated and manages the patient's care.
Private Payers
Most commercial payers follow Medicare's "incident to" rules. But plans may vary, so be sure to check your contracts with commercial payers and review their rules for "incident to" billing. Also, some commercial plans have less restrictive rules regarding "incident to" billing – but make sure you have this in writing!
Which Billing Method Is Right for You?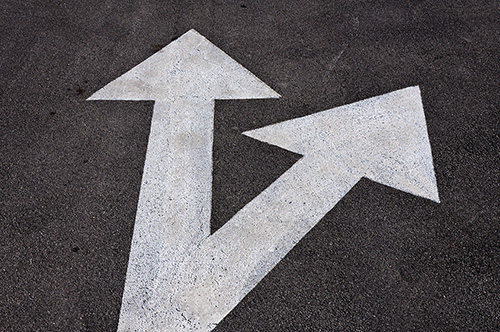 Figuring out which way to bill for an APP's services depends on how APPs will work in your practice, in addition to state regulations and insurance company or MAC requirements. For instance:
Will your APP see only follow-up patients and cover allergy shots, and will there always be an allergist in the clinic with them? If so, "incident to" billing might work.
Or will your APP need to see new patients, cover remote locations by themselves, or cover extended hours and Saturdays by themselves? In that case, billing "incident to" won't work.
If you'll have multiple APPs working at your practice, will they all provide the same services? Or will some be more independent than others?
Some practices take a mix-and-match approach, using "incident to" billing for some APPs and billing under APPs' NPIs for others. This can get complicated, however, and you need to make sure you're scheduling only appropriate patients for APPs billing "incident to" (no new patients or patients with new problems, for example).
Whichever method(s) you choose, make sure they meet the insurer's criteria (whether Medicare or a private payer), state regulations, and try to maximize revenue for the practice.
When to Consider Adding APPs to Your Practice
Okay, so you're excited about everything an APP can add to your practice. When is the right time to add one? One or more of the following could indicate a need for an APP:
When the demand for your services begins to exceed your practice's capacity or you're considering expanding.
If you need help with call coverage, coverage for vacations or absences, and supervising immunotherapy.
If one or more providers are planning to retire or leave and you need a replacement.
There's no easy formula for when it makes sense to add a new provider, but you'll want to consider the following statistics together over time:
Third Next Available appointment for each provider

This is a snapshot in time that says, if Patient X requests an appointment with Provider Y today, how many days would they have to wait for the third next available appointment? This measure indicates how easy it is to schedule appointments with your providers. (We don't use first and second available appointments because they may be available due to last-minute cancellations). If the Third Next Available appointment is far out, you aren't meeting patient demand and may need to add a provider.

Physician and APP fill percentages

This refers to the percentage of available appointments that are filled each day, not counting no-shows. Are you consistently at higher than 90%? If so, you may need to add a provider.
So, what is the right "target" number for Third Next Available appointment? It depends to a degree on your market and competition. Some allergy practices may be fine with a Third Next Available new patient appointment of 30 days – if your competition takes 60 or more days to see new patients. But generally, patients prefer to see someone sooner, so two to three weeks may be more appropriate.
Add a Physician or an APP?
If you do determine that it's the right time for your practice to add a provider, how do you decide whether to add a physician or an APP?
The right answer for your practice depends on many things:
Bottom line: Consider your practice needs and how you would use the new provider.
Bringing an APP on Board
Once you decide you do want to bring an NP or PA on board, you'll want to do two things to make the new addition a success: Look for certain qualities when hiring, and integrate them effectively into your practice.
Qualities to Look For
Finding the right fit is essential when adding an APP to your practice. You'll want to find an NP or PA that has...
A team-based approach
A collaborative spirit
Adaptability to the physician's style of medicine (as well as sharing the physician's philosophy on medicine)
A patient-centered work ethic
Excellent communication skills (able to explain things to patients plus communicate well with physicians)
As with any staff member, you want someone who fits in with the culture of your practice.
Note: both the American Association of Nurse Practitioners2 and the American Academy of Physician Assistants3 post jobs on their websites, so they are good resources for practices looking to hire APPs.
Successfully Integrating a New APP
How do you successfully integrate a new APP into your practice? Here are a few tried-and-true ideas: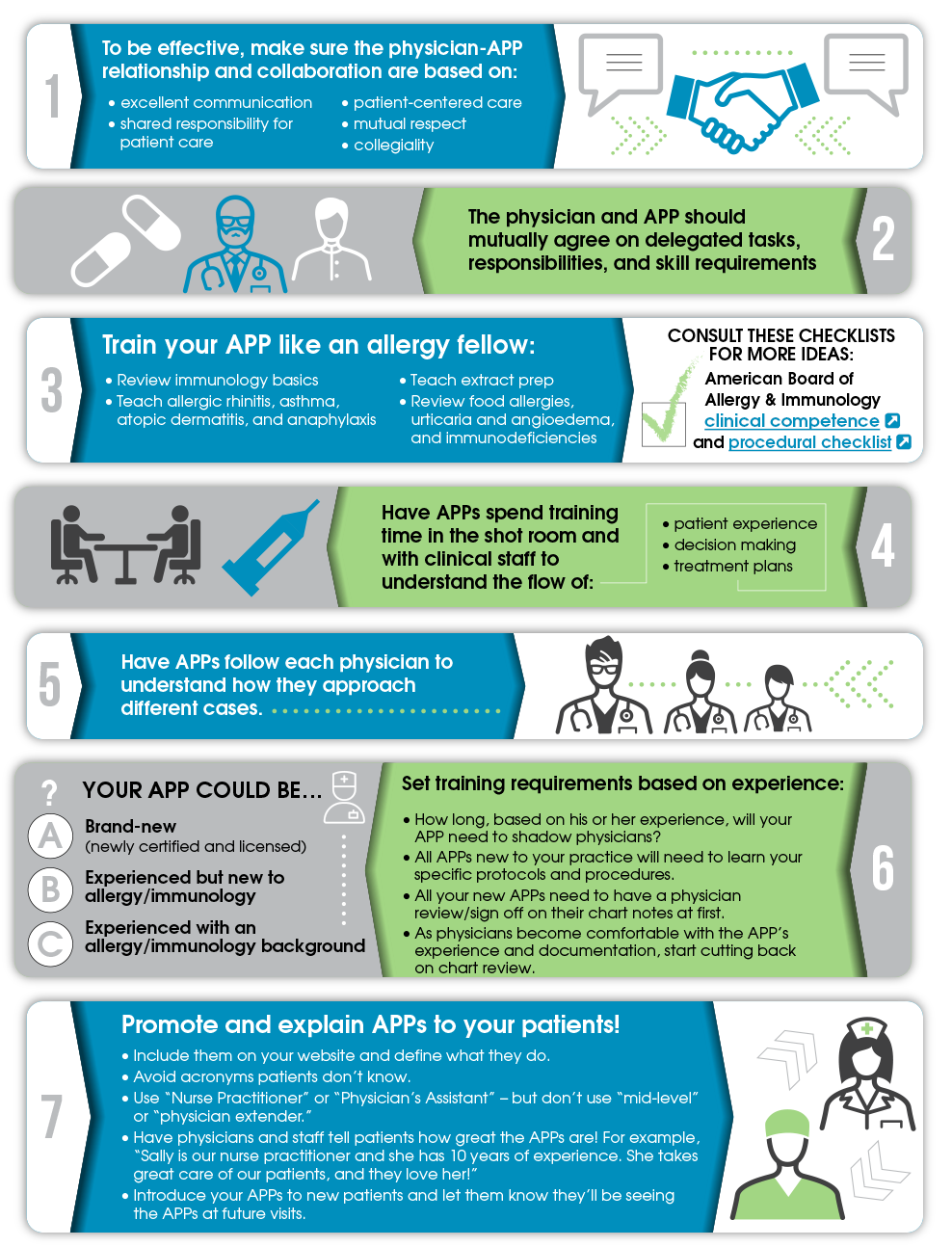 Clinical competence
Procedural checklist
If you follow these tips, you're bound to successfully integrate your APP in no time!
Finally, encourage your new NP or PA to become a College member, where they can find a wealth of educational resources for allergy and immunology providers and opportunities to network with and learn from other APPs in our specialty.
Conclusion
Since we started with a quiz, let's conclude with one also. This will help reinforce what you've learned in this module.
Hopefully, your answers revealed that you're up on your APPs!
If you think your practice could benefit from bringing an APP on board, take some time to plan out your next steps:
What's the scope of practice allowed in your state?
What are the regulations in your state, and how do they compare to federal regulations?
How will you use APPs in your practice? In other words, what specific needs does your practice have that you want them to meet?
How will you bill for your NP or PA?
How can you best integrate them into your practice?
Choosing to make an NP or PA part of your team can greatly improve patient access and the quality of your patient care. Just make sure to do your research thoroughly – especially when it comes to state and federal licensing and regulations. The right APP, under the right circumstances, will only enhance your practice!