Using Social Media and
Managing Your Online Reputation
Introduction
What do you think of when you hear the term "social media"? Catching up with family and friends on Facebook? Funny animal videos on YouTube? Impossibly gorgeous photos on Instagram? Rapid-fire debates on Twitter?
Social media is all this and so much more – including being a tremendous tool for your practice and patients! Just look at some of the statistics: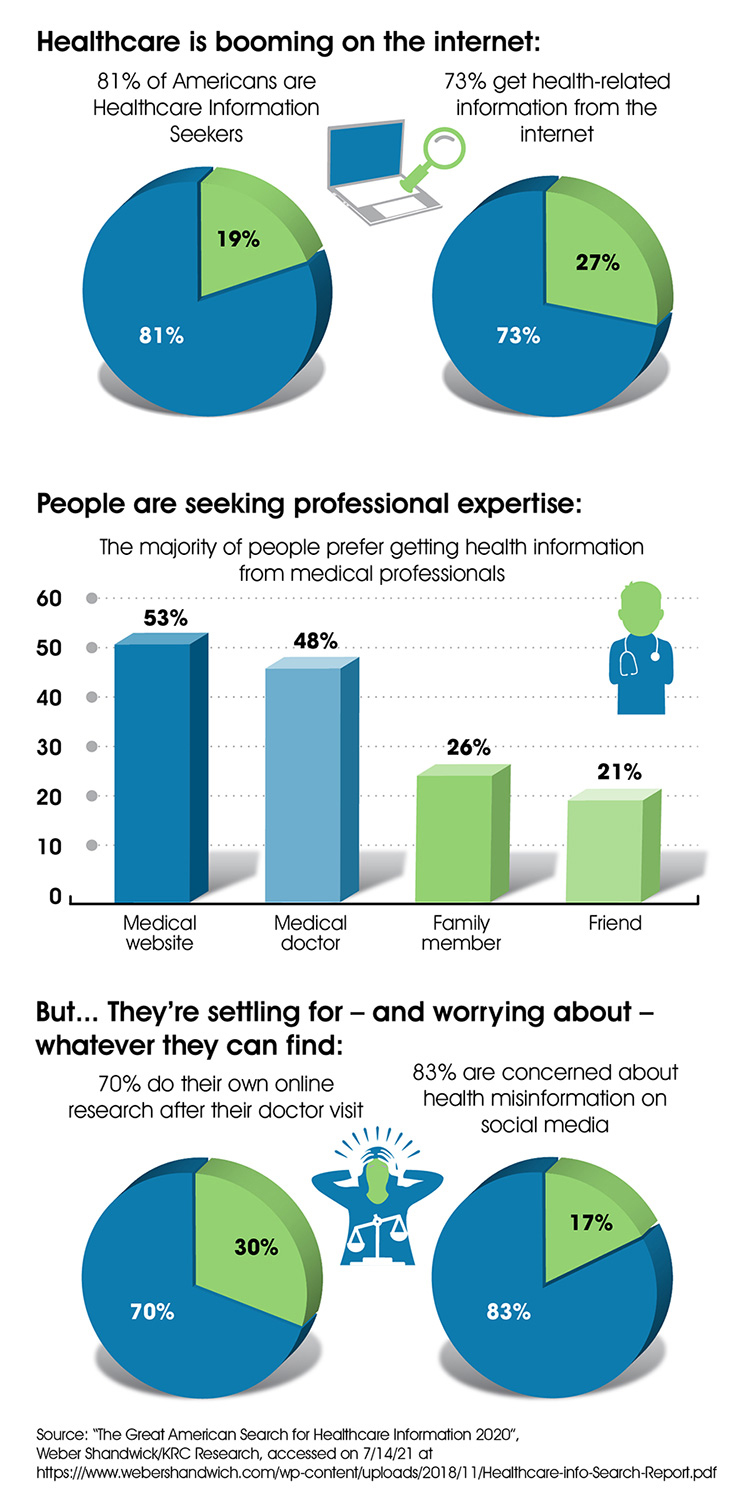 As you can see, the majority of people in the U.S. go to the internet, including social media, for health information. But a lot still rely on posts from news outlets, friends, family, and influencers – and their recommendations may not be as accurate and beneficial as health information coming directly from a professional like you.
An allergy practice with a strong social media presence offers a lot of benefits, both to your patients and your practice. You can...
Educate and engage your patients.
Combat the misinformation that's out there to better protect your patients' health.
Increase the visibility and awareness of your practice in the community.
Advertise your services and any practice changes quickly.
This doesn't happen by accident, though. You need to carefully build your online presence and manage your online reputation to reap the benefits.
Let's dig into this by first exploring how your allergy practice can attract, engage, and educate patients through social media.
 

Attract, Engage and Educate!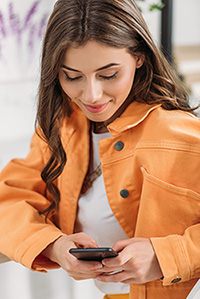 If anyone thinks a website or Facebook page is just a substitute for the old Yellow Pages ads, they need to think again! It's now commonplace for practice websites and social media pages to both attract new clients and engage and educate anyone who uses them.
Attract
How can you attract people to your practice using social media? Before you sign up for a bunch of flashy games and graphics, think about the basics. What will visitors to your site or social media accounts be looking for?
Here are some ideas:
Who are you?

Make sure your practice's name and doctors' names are prominent and current. Then share biographical information about your providers, including their credentials, experience and specialties. You could even spotlight a staff member each month with a photo or story to give that personal touch.

What services do you offer?

List all the services for allergy, asthma, immunology and everything else you provide – and make this list easy to find and use! Be sure to highlight the hours and locations of your shot clinics. And don't forget to advertise your participation in the Nationwide Asthma Screening Program.

How can they get in touch?

Make your contact information – such as your office phone number, fax, and address – easy to find, along with your practice hours and directions to your office.

What is an office visit like?

Consider posting videos that show what happens during allergy testing or when receiving allergy shots or other treatments. You can also include info on how patients should prepare for these visits, including what to wear, when/if to stop certain medications prior to the visit, etc. The more you can explain, the better prepared patients can be! There are easy-to-use programs, like Canva (described in more detail below), that can help you create videos.

How can patients access your office?

Direct patients to your portal, where they can send messages to you or your staff directly, as well as look up their appointments and prescription information.

What's new?

If you're adding a new provider or services, tell people about them! If you're expanding your practice or moving, be sure to provide information on this too. Maps and pictures of your new building are especially helpful for guiding patients to new locations.
In addition, you can attract new patients by using paid social media features, such as Facebook ads and boosted posts. A boosted post, by the way, is one in which you pay to have your post appear as sponsored content on non-followers' social media timelines. This helps you reach new patients.
Engage
• If available, give pollen and mold counts, as well as the air quality index, for each day.
• Highlight seasonal allergies and how people can protect themselves from allergens as well as treat them.
• Create short videos featuring your allergists addressing a clinical matter or a hot topic that's been in the news.
• Share and retweet posts from your other social media pages, as well as other practitioners you follow and the College's social media posts ( Facebook, YouTube, Twitter, LinkedIn, Pinterest).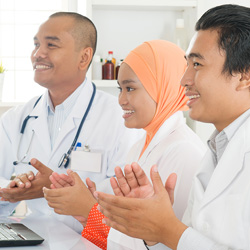 • Promote partner organizations' events and education programs that will interest and add value for patients.
• Highlight your providers' involvement in community events – even ones that aren't allergy-related (like a 5K run or a hobby). And publicize their leadership roles in professional organizations – like the College! (You can also share these organizations' public relations efforts). Examples like these will help position your providers as trusted experts in their field.
• Share staff photos of your nurses, front office and billing staff (with their permission, of course) for Nurse's week, anniversaries, holiday celebrations, or any employee appreciation events. Employees appreciate the recognition, and patients love seeing the staff they interact with week to week.
• With your patients' permission, post their testimonials about positive experiences with your practice as well as positive outcomes of different treatments. Someone else's good experience can be a great encouragement to others!
Once you've engaged your audience, you have a great opportunity to educate them.
Educate
Now, "education" doesn't mean making junior allergists out of your audience. However, a little solid science clearly explained in down-to-earth, patient-friendly terms can be extremely helpful.
Here are some ideas:
Disease Awareness
(Click to reveal answer)
Use disease awareness days, weeks or months to spotlight individual diseases and the treatments you provide. For example, May is Asthma and Allergy Awareness Month (check out the College's Social media kit for allergy and asthma awareness month, which will provide you with articles, graphics and more). The second week of May is Food Allergy Awareness Week. September 28 is National Penicillin Allergy Day. And October is Eczema Awareness Month.
Post College fact sheets about specific diseases. No need to reinvent the wheel – we've done a lot of the work for you. (See link at the end of this module in the College Resources section)
Educational Videos and Articles
(Click to reveal answer)
Use the patient-focused videos from the College's YouTube channel, which feature top allergy experts addressing a wide variety of topics.
Provide explanatory videos and articles from other sites and colleagues you trust (with their permission, of course).
News
(Click to reveal answer)
Share new research and treatment options – especially about conditions you see a lot of at your clinic.
Provide information on allergy and asthma product recalls. If your patients are using any recalled medications or products, give them clear directions about what they need to do and how your practice will help them.
Reminders
(Click to reveal answer)
Encourage your patients to stick to their therapies.
Reinforce the benefits of specialty allergy and asthma care over just seeing a GP.
Remind your patients to schedule visits and/or refill their medications in advance of allergy season.
Explain the importance and availability of flu, COVID-19 and other immunizations.
Push out information for season-specific needs, such as back-to-school forms and vaccinations, flu shots, end-of-year extract orders ahead of insurance changes, etc.
Want to see what this looks like in practice? Check out the Facebook pages of Carolina Asthma & Allergy Center and Atlanta Allergy & Asthma. Also, watch the videos below to hear directly from practices about how they use social media.
How we use social media in our practice
Tools
Okay, at this point you might be thinking, "Gosh, this sounds like a lot of work. How can I possibly keep up with all the different platforms while running a busy practice?"
We have good news! First, there are apps available that let you post on multiple platforms:
Hootsuite is a social media management platform that lets you schedule your social media posts across all platforms at one time. So with the push of a button, you can send out your messages on Facebook, Twitter, Instagram, LinkedIn and YouTube. You can get started with a free plan, and if you like what you see, you can sign up for a paid plan that offers even more. Another good option is Loomly, which allows you to post over a multitude of social media platforms.
CoSchedule is a tool that integrates with WordPress websites. It allows you to share directly from your website's back end to your Facebook, Twitter and Instagram pages. There are different pricing plans for their various services.
You may already have Facebook and Instagram, right? Did you know you can set them to post synchronously? If not, now you do!
Second, there are design tools that can help with graphics:
Canva is an online graphic design tool that allows you to create graphics and videos from an appealing library of templates. As a bonus, you can schedule and publish your posts directly from Canva. You can start with their free plan, with the option of going to their Pro or Enterprise plan if you need more.
Adobe Creative Cloud software (which includes Photoshop, Illustrator, Premiere Pro and Spark) can help too. Some of these programs take time to learn, so they may not be helpful for beginners. Prices vary by plan.
Want to learn how real practices do all this? Take a moment to watch the videos below and hear how they use tools to help them manage their social media outreach.
Tools we use to help manage social media in our practice
 

Managing Your Online Reputation

It's one thing to establish a social media presence. But it's even more vital to manage your online reputation.
Why It Matters
It's an inescapable reality: Your online profile will be created whether you do it or not.
Patients do Google searches and look for reviews on sites like Healthgrades, Vitals, Yelp, Google and others to find recommended local providers – as well as providers to stay away from. And dissatisfied patients are more likely to leave reviews.
Gulp! What can you do? Let's look at some effective strategies.
How to Boost Your Online Reputation
To start with, Google yourself! Search for your practice name, as well as your doctors' names, on the major healthcare review sites – CareDash, Healthgrades, RateMDs, Vitals and Zocdoc are a few to get you started. And don't forget the general review sites like Yelp, Google, U.S. News & World Report and the Better Business Bureau. Along with Googling yourself, set up a Google alert for your practice name and physician name to catch blog posts or media stories about your practice.
Google yourself!
Next, make sure your rating site profiles are complete. For example,
Is your contact information up to date? This includes not only your website address but also your phone number and physical address.
Are the directions to your office still accurate? Have you provided a map?
If someone looks you up on a map (Google Maps or MapQuest), is all your information accurate there?
Are the services listed correct?
Are your office hours current?
Do you have photos of your practice, doctors and staff?
Have you posted a philosophy of care statement?
Wherever people can find you online – on search engines, review sites, maps, your website, social media – your information needs to be absolutely correct.
Next, pay attention to your search engine ranking. Most people use Google, but don't forget about Bing. You can improve local search engine ranking by claiming, completing, and updating your office's profile on Google My Business and Bing Places. In addition, keeping your website up-to-date and user-friendly will give it a good foundation to be found easily online.
Now comes probably the most critical part: Monitoring what others are saying about you online.
Keep on top of what others are saying about you!
Let's start with the positive.
Feel free to ask satisfied patients to post reviews about their experiences with you. Let them know that besides helping your practice (local patient reviews build trust in Google's eyes and can boost your local ranking), they'll be helping other people who need to find an allergist they can trust.
One easy way to go about this is to give your patients a review request card at the end of their appointment. Another option is to use email or texting services that integrate with your EHR to automatically send review requests later on. If you use a patient portal, you can ask patients to review you when you send out post-visit clinical summaries.
Then be sure to thank your patients for their positive comments! You can often do this by simply replying to their posts.
Okay, now we get to the trickier part – how to handle those negative comments.
Responding to reviews, good or bad, will highlight that your practice is attentive to patients. And with negative reviews, responding will also give you the opportunity to make the situation right.
So, what are some do's and don'ts of responding to negative comments?
| Do | Don't |
| --- | --- |
| Thank the person for taking the time to give their feedback. | Ignore the comment. |
| Acknowledge the person's experience and feelings. | Argue with the person. |
| Keep your initial response general. | Give patient specifics in your response. |
| Be willing to learn from what this patient has to say and take an honest look at any shortcomings in your practice. | Get defensive and decide that it's all that patient's problem. |
| Continue the conversation offline. | Engage in a back-and-forth online discussion with the unhappy patient. |
Want some more tips? Take a moment to watch these videos, which explain how each practice manages their providers' online reputation.
How we manage providers' online reputation in our practice
Summary
Are you excited about the possibilities social media offers your practice? Before you dive in, make sure you understand the key strategies by taking this short quiz.
Social media never stands still, so we're always continuing to learn and improve. Here's to your success, and we'll see you on the internet!
Module Resources
---
Articles
---
Webinar
---
College Resources
---
College Social Media Sites